School: Trnovo Primary School, Slovenia
Trnovo Primary School is a modern school in which the teachers apply many different methods of teaching: team teaching, project work, individualisation and differentiation, jigsaw, cooperative learning, using ICT,.... The staff is opened to new ideas, technology and people.
Approx. 690 pupils attend our school. They are 6 to 15 years old and divided in 27 different classes. The compulsory subjects are: Slovenian, Mathematics, Geography, Biology, English, Physics, Chemistry, History, Ethics, Music, Art, Craft, Physical Education, Home Economics, Technical Education.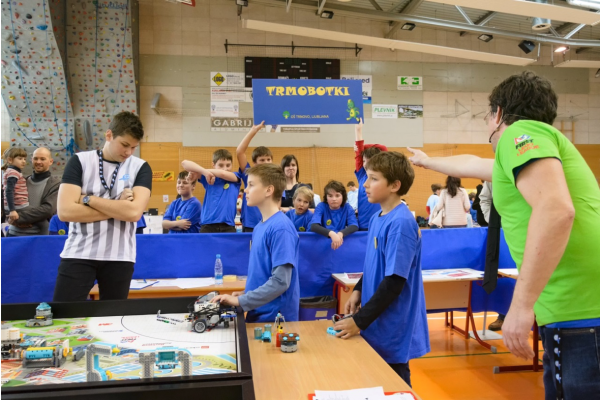 Project description
The team of teachers of different subjects came together when the e-Training in Budapest took place. They applied the newly gained knowledge on project management, problem- and project-based learning, prototyping in the concrete innovative project. As the school has been participating in the international programme FIRST® LEGO®League (in Slovenia organised and carried out by Zavod Super Glavce (link: http://www.fll.si/)) and there was a plan to continue in the 2017/18 school year, they decided to apply newly gained knowledge for better mentoring of the group of pupils participating in the programme.
They first allocated the project management and student mentoring tasks. With regular monitoring and on-going evaluation they validated the student work and implementation of knowledge gained in Budapest.
The connection of the InnoTeach project and FIRST® LEGO®League – connecting the best of both – brought a new dimension in the teachers and pupils work resulting in excellent pupils' achievements.
The project group presented their approach to the other InnoTeach participants and to the participants of Ljubljana's InnoTeach Conference.
Project team
Teachers:
Robertina Dugar (ICT and math teacher), Alenka Dolinar (teacher for students with special needs),

Branko Stepančič (1st grade teacher), Danijela Klemenčič (ethics teacher),

Saša Brolih (biology teacher), Uroš Petković (student of electrotechnics)
Students:
11 students of 5th and 6th grade
Beneficiaries
The main beneficiaries of this project are the pupils, who gain new skills and competencies from the field of creativity, innovation and entrepreneurship; however, also the mentors are beneficiaries since they are able to develop new concepts of multidisciplinary and interdisciplinary approaches in their teaching practice.
Involvement
number of students involved in the project:11

number of teachers involved in the project:5

number of other stakeholders (e.g. parents, policy makers, etc) involved in the project: 2 parents, 1

scientist, 1 innovative company